Frankoma Political Mugs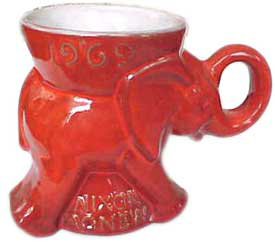 John Frank first designed a 5 oz. elephant mug as a fund raiser for the National Republican Women's Club in . It was so successful that the mug was added to the production line the following year, turning it into another collector series. (Naturally the Nixon/Agnew ticket winning the election helped in the decision as well).
In , Joniece Frank designed a Democrat donkey compliment. In innaugural years, mugs bear the name of the President and Vice President. All mugs show the date and have the GOP or DEM on them. Collectors should note that these mugs were produced up until , when the plant officially closed.
Interested in more Presidential political memorabilia?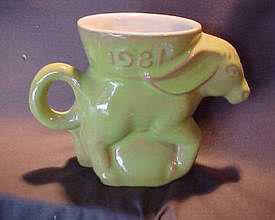 Below are all Frankoma political mugs selling right now on eBay.
Democrat Donkey Mugs
Autumn Yellow
Freedom Red (Carter-Mondale)
Pink
Woodland Moss
Brown Satin
Terra Cotta
Celery
Robin Egg Blue
Wisteria
Mulberry
Navy Blue
Mountain Blue
Lemon
Onyx Black
Peach
Teal
Mottled Ivory
Mauve
Forest Green (Clinton-Gore)
Cobalt Blue
Plum
White
White / Black (Clinton-Gore)
Republican Elephant Mugs
White Sand
Flame (Nixon-Agnew)
Blue
Black

Prairie Green

Desert Gold (Nixon-Agnew)
Coffee
Autumn Yellow
Freedom Red
Pink
Woodland Moss
Brown Satin
Terra Cotta
Celery (Reagan-Bush)
Robin Egg Blue
Wisteria
Mulberry
Navy Blue (Reagan-Bush)
Mountain Haze
Lemon
Onyx Black
Peach (Bush-Quayle)
Teal
Mottled Ivory
Mauve
Forest Green
Cobalt Blue
Plum
White
White / Black
(Shows up to 200 items)