Books about Frankoma Pottery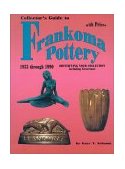 Collector's Guide to Frankoma Pottery
Hardcover Book
Author Gary V. Schaum packs this most useful guidebook full of information about Frankoma pottery, fully covering everything produced from the 1930's to 1990. There is a full price list. Not only is the regular line examined, but the Gracetone lines are included as well. Included is a detailed history of the company and its designers, full color photographs and original catalog pages, marks, reference numbers, years of production all making the identificatin a simple task.
Indispensible to any Frankoma collector.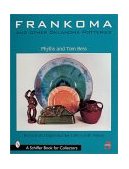 Frankoma and Other Oklahoma Potteries (Schiffer Book for Collectors)
Hardcover Book
This popular book is now in its third edition. Beginning with the Frankoma Pottery, the authors present the histories of many Oklahoma firms, including Tamac, Sequoyah, Cherokee, and Winart, the clays, glazes, and trademarks by which each firm may be identified, and the variety of pottery they produced. The ceramics range from sculptures, masks, and limited edition series to vases, planters, and dinnerware available all over America.
This useful guide is available both new and used from Amazon.