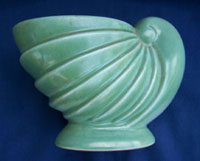 GRACETONE POTTERY
GRACEful lines in beautiful color TONEs
Gracetone Pottery was produced from 1959 to 1967. John Frank purchased a Muskogee, Oklahoma company named Synar Ceramics in September, 1957, eventually naming it Gracetone in December. He designed a new line of dinnerware named Orbit, the name based on a circular motif. Many of the original Synar pieces continued production. Unfortunately the company did not meet expectations, so Frank closed it in May, 1962.
Frank's associate J.C. Taylor purchased the company, along with its assets, to continue production with a reduced number of items. He eventually decided to stop production entirely in February, 1967.
Almost all items produced are marked with Gracetone. Smaller pieces have a gold sticker label.
No items matching your keywords were found.
from Gracetone Pottery ad sheets:
A NEW DIMENSION IN SCUlPTURED FORM
BEAUTIFUL BALANCE
CERAMIC LOVELINESS
TRUE EARTHENWARE
COLORFUL TABLEWARE