A Site for Frankoma Lovers and Collectors

FRANKOMA HISTORY
Frankoma Pottery was founded by John Nathaniel Frank, who was born in Chicago on January 31, 1905. A university art teacher, he accepted a position at the University of Oklahoma's newly created Ceramic Art Department where he taught courses in ceramics from 1927 to 1936.
Frank met Grace Lee Bowman on January 30, 1928, and they married the following September on the bride's twenty-third birthday. While Frank was still teaching, the couple purchased a small building in Norman, Oklahoma to house their new business, Frank Potteries, which later became Frankoma Potteries.
In 1933, John Frank met Joseph Taylor, who joined the University of Oklahoma Art Department. Taylor became a lifelong friend and eventually went on to design many of the early Frankoma Pottery sculptures.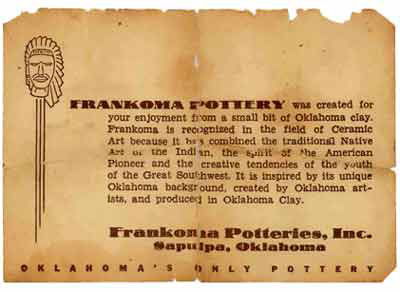 Old Frankoma Packing Leaflet
In February, 1938, the Franks moved to Sapulpa, Oklahoma, and built their new plant on the legendary Route 66, just outside of town. This plant burned to the ground on November 10, 1938 destroying everything except for a few molds but, fortunately, Frank was able to raise funds to restart operations.
The 1938 fire marks a significant point for Frankoma collectors. Pieces are often described as "pre 1938" or "post 1938".
Frankoma subsequently grew into a prosperous business. Frank was honored as Outstanding Businessman in America in 1971 and Marketing Man of the Year in 1972.
John Frank passed away in 1973, whereupon his youngest daughter Joniece took over operations. A second fire hit the plant in September, 1983. Despite the facility's total destruction, the irreplaceable molds survived because of John Frank's foresight in arranging for storage of the molds in a fireproof room. This time, the plant was quickly rebuilt and production restarted by July, 1984.
Frankoma continued production until December 31, 2004.
More questions? Ask and participate on our Frankoma Message Board. Registration is free.
Contact Us:
moc.dnalamoknarf@yalcada
© 2015 Mesquite Management Corp. -- ALL RIGHTS RESERVED